n this module you will be able to see all your prices on a list. These prices will appear on the quotes that you can send to your clients. They can be set by line item, carrier and route. The system also has an option to set them with a general form, which means that it can be applied to any route. 
To access this module, you need to click on the left menu and select the option "Prices".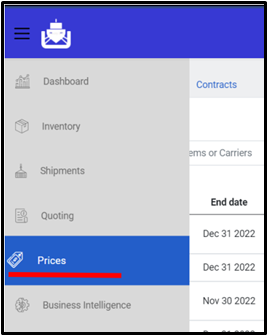 It will redirect you to a new view that will show you 3 tabs: Prices, Price Bundle and Contracts.

Have any questions? Please get in touch via chat. We reply usually within minutes.
Grydd – Fast forward your logistics