In this module you will find three main tabs on the top of the screen, costs, price strategy and contracts. Here you will be able to manage all your costs and create strategies that will allow your business to generate quotes and contracts for your clients.
COSTS
A group of costs composes cost variations for different unit types and can be applied to prices with the same characteristics.
In this view you will see a search bar where you can find a cost by group name. And there are some filters that you can use to find them, it can be filter by category, configuration, Location Port, Location city and route.
You are going to find also two buttons called, Settings and + New group.

You need to create your categories first and select the type of containers you will work with. For this you need to select the button "Settings", and this will take you to a new view.
In this new view, you are going to select + Add new, it will open a modal where you can type the name for your category.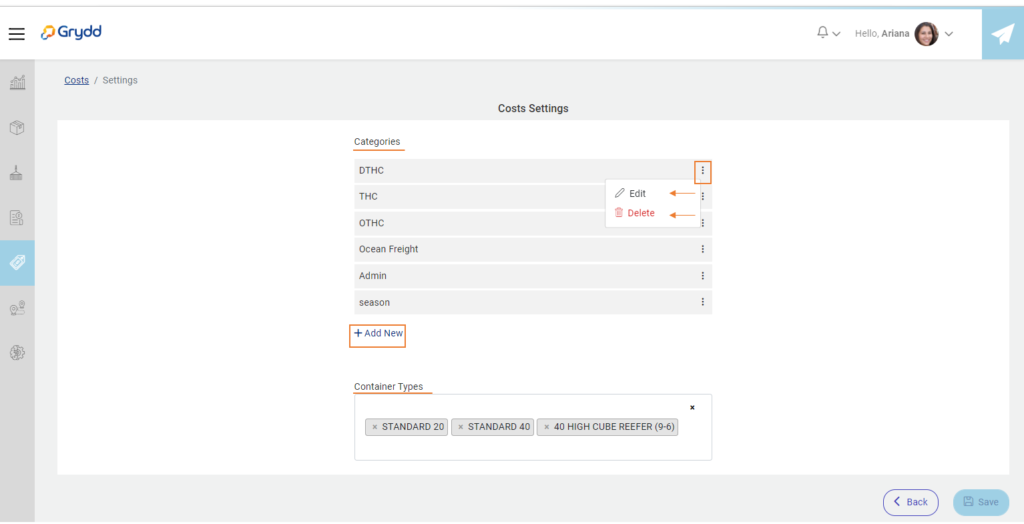 Add the name of the category and then click on the button save.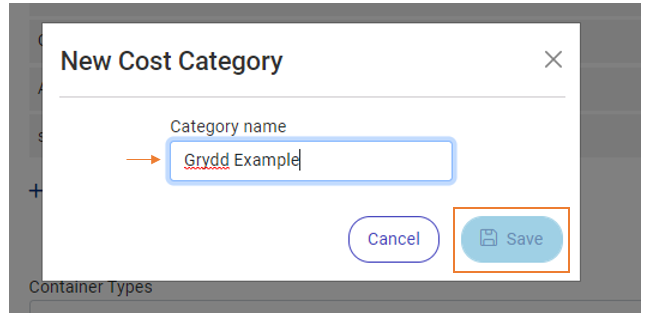 Once the category is created, you will see a kebab menu at the end of the name of the category, you can either edit it or delete it.
To configure which containers, you are going to work with, click on the card and it will show you a list of containers when you select them, they will appear on gray with a x on the left side in case you want to deselect it.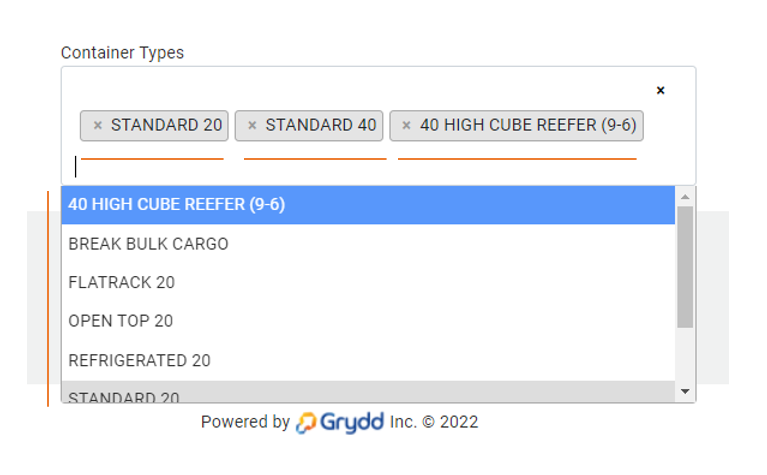 Now that you have configured your settings you are ready to create your group of costs.
Select the button + New Group, the system will open a modal.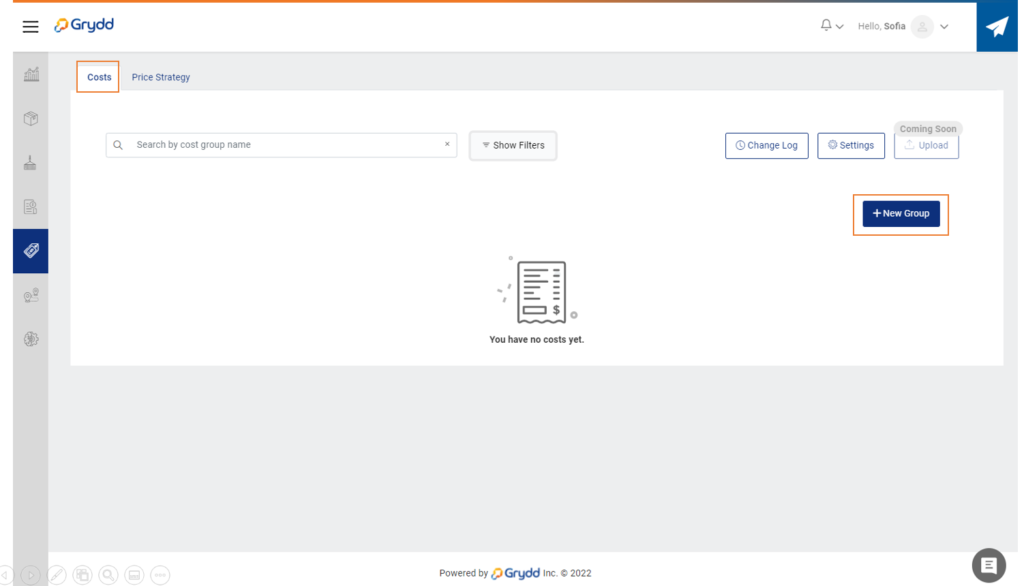 Here you will select the category, the categories you already created will appear in a list.
Choose the type of unit (Single Value, Container Type, Container Type Per Days. Container Type Per Hours).
Select the configuration for your costs, you can select between Location (The costs in this group will be applied to prices for a specific Port or City.), Route (The costs in this group will be applied to prices with a specific Truck or Ocean Route.) or General (The groups in this category will be applied to all prices, regardless of location or route).
Select the type of location (City or Port) and select it from the list.
Choose when the cost group will apply, If the route has only origin selected, or only destination or Origin or destination.
Example of Location Configuration: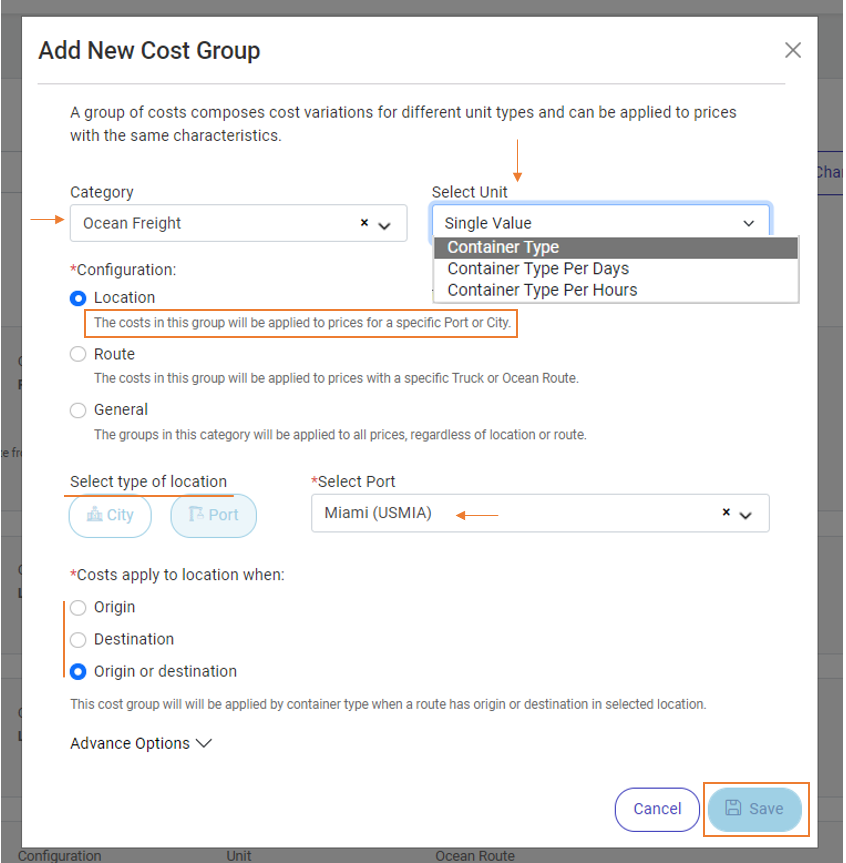 When you select configuration per Route follow the same instructions above.
But when you select the route there is a check box below that says, "This costs group apply just for a certain journey leg" and two new fields appear where you can select the origin port and Destination port where this group of cost will apply only if you choose the check box.
Example of Route Configuration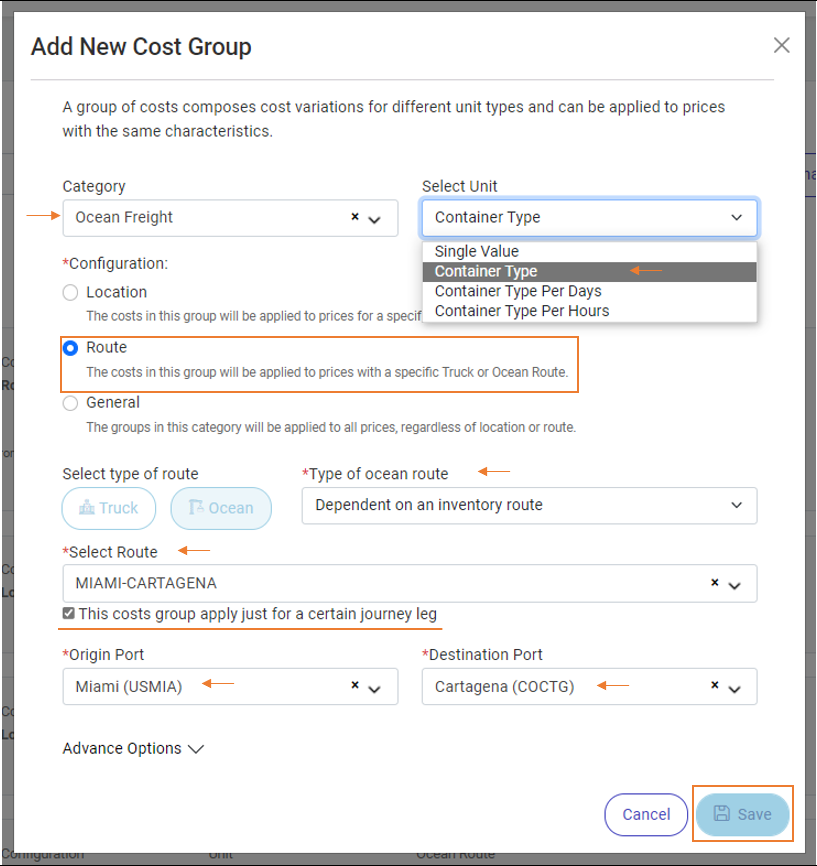 When you select General configuration follow the same instructions above.
Example of General Configuration: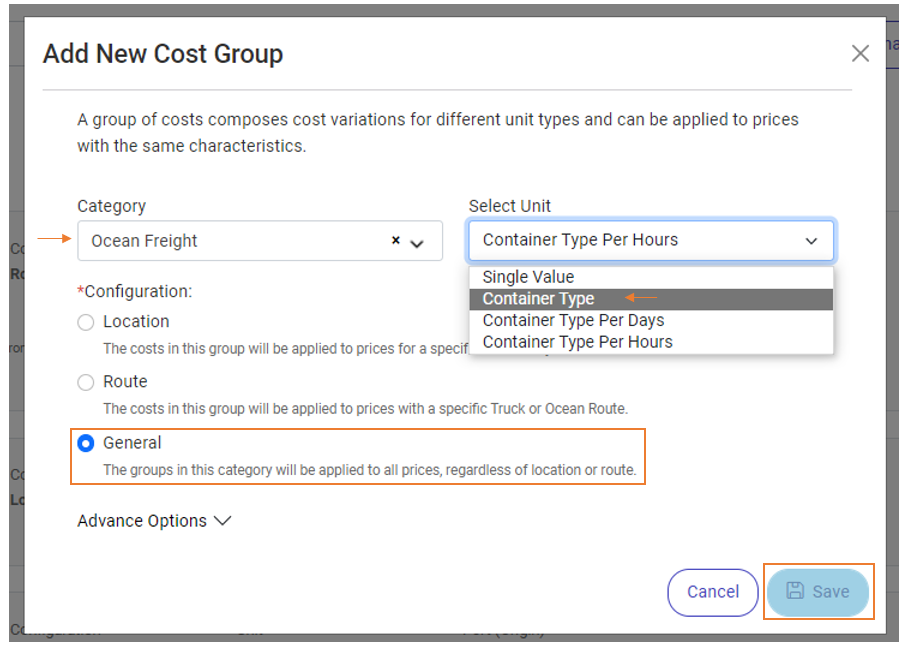 If you require extra options, below the configuration options you are going to see a text "Advance Options", click on the down arrow to open more options.
You will see a list of commodities where you can choose one or more from the list and those will apply to the group of cost that you are configuring.
You can also choose validity for this choosing from when and until this will apply.
And do not forget to click on Save.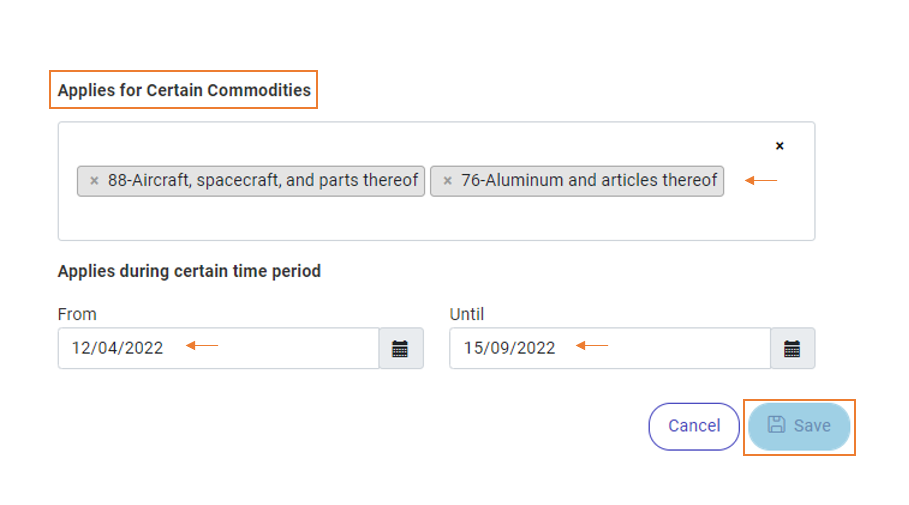 Once the Group of cost is created, you are going to see the information on a card.
Here you need to click on the button + Add Cost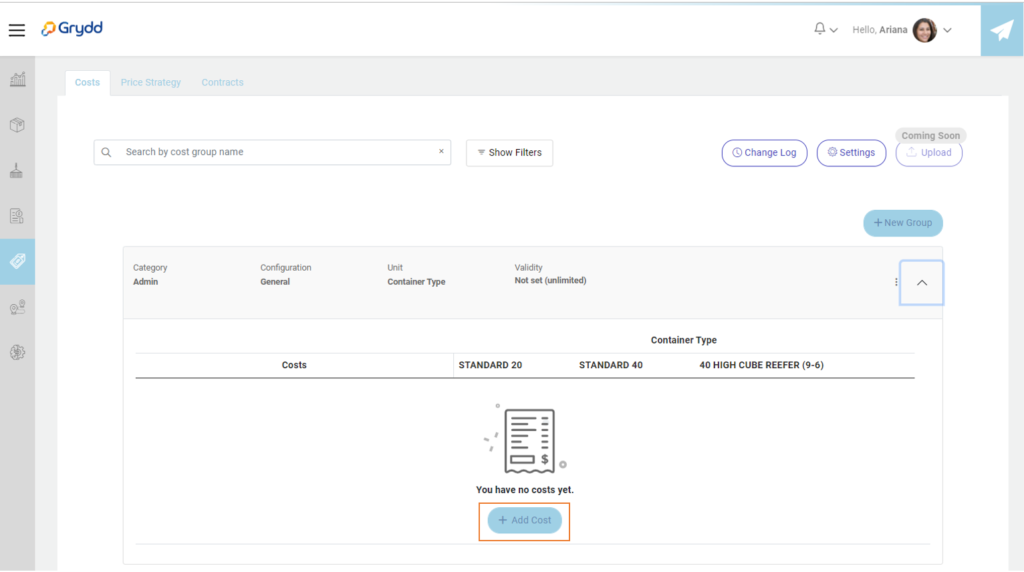 And it will show you new fields like Cost name and USD $ for each container that you have.
In cost name you need to choose of your costs, if you do not have costs created yet, you just need to write the name and the system will show you a text Create "name of the cost", you need to select it and the system will save it right away.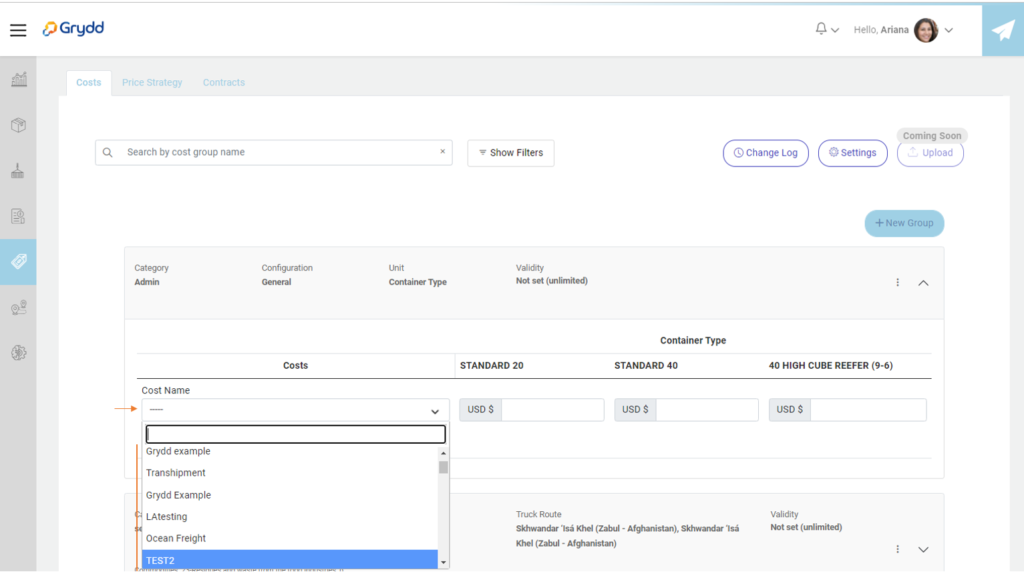 Example about creating a new Cost Name: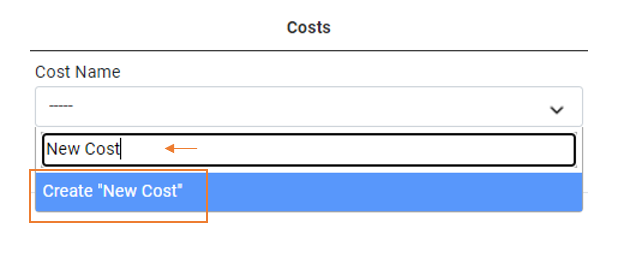 Then add the values per each container and save it.

You are going to see your costs on a list with name, value and total. Add as many as you need clicking on "+ Add cost".

Once the cost has been created, you can edit or delete it if necessary, clicking on the kebab menu at the left of the cost name.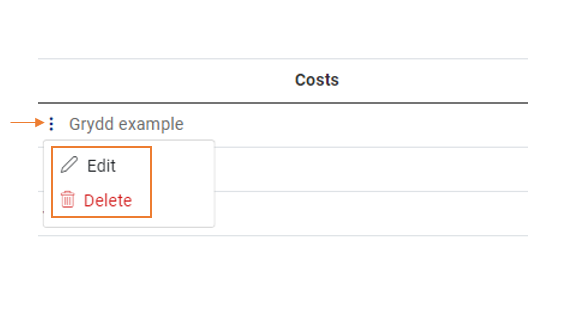 Now, if what you want to edit, clone, or delete the group of cost. Select the kebab menu on the right side and it will you show you the options.
This is the view when you select Edit: Once you finish the edition, save it.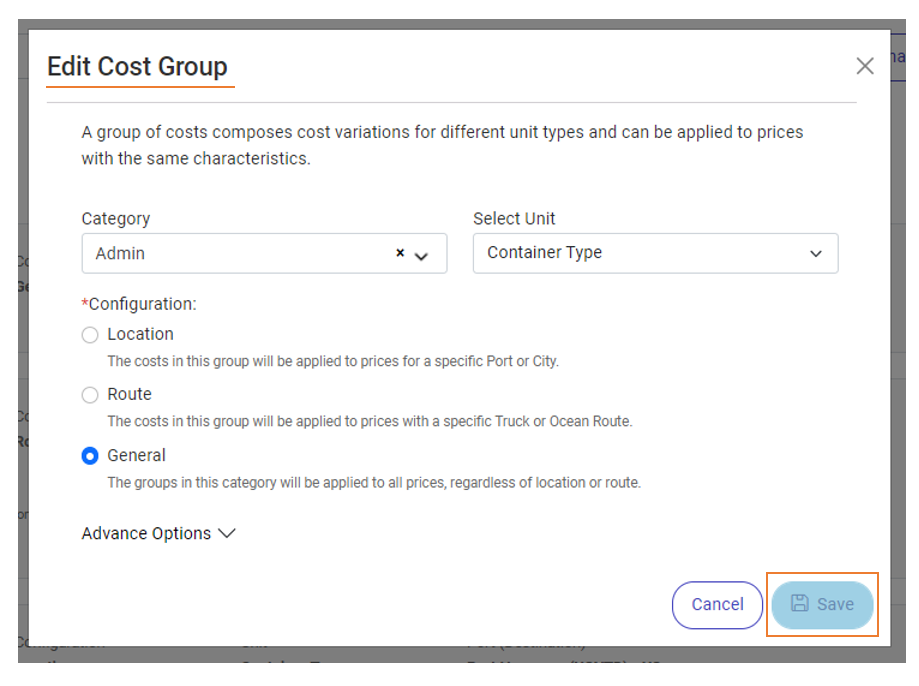 This is the view when you select Clone: Once you finish, save it and the new group of cost will appear on the list. This option will help you to create quickly another cost of group with similar configuration.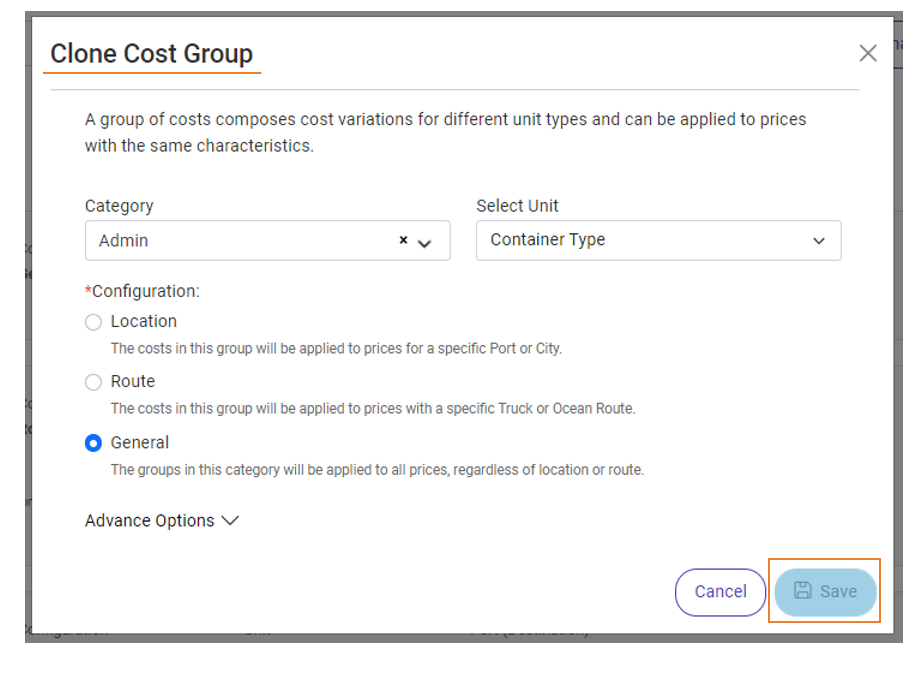 This is the view when you select Delete: the system will show you a modal to confirm this action and the group of cost will disappear from the list.

Have questions? Please get in touch via chat. We reply usually within minutes.
Grydd – Fast forward your logistics