Select the button "settings" located in the tab Prices

The system will redirect you to a new screen where you need to add some information, so you can create the prices later. 
a). Categories: Selecting the button "+ Add Category", the system will open a new screen. 

Here, you need to name your category. Categories is the biggest group where line items will be associated.  

Once you add your categories you will see them on a list, you can edit or delete them if needed. Also, you can use the search bar to find your categories quickly. 

b). Line Items: Now, select the tab "Line items" and click on the button "+ Add Line Item", you will see a new screen. 

Here, you will add the information that the system requires: Code, Name, Description, Equivalent Standard Line Item, Categories, and you can set up a profit that can be defined by percentage or value. Then select related stages and click on "save".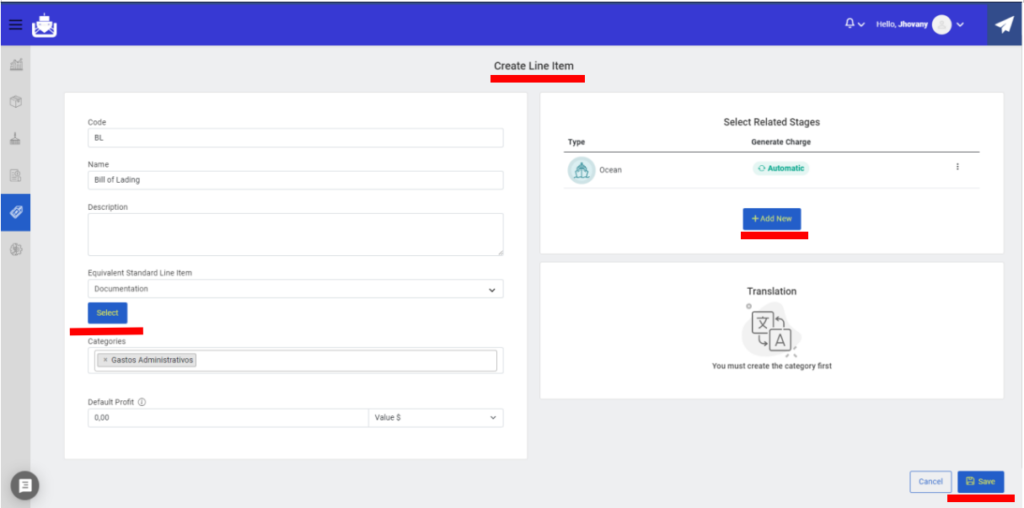 Once you add them, you will see a list where you can edit or delete the information if needed. 

c). Cost Items: Now select the tab "Cost Items", then select the button "+ Add New" to start creating your costs.  

The system will show you a window where you can add the information: Select a stage type, select if is a general cost or not, select an existing cost or create a new one, origin, destination, carrier, line item, currency, effective date, end date and upload cost certification if needed and click on "save".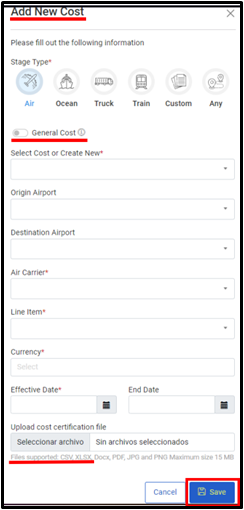 Here, you can select General Cost. Fill in the information and save.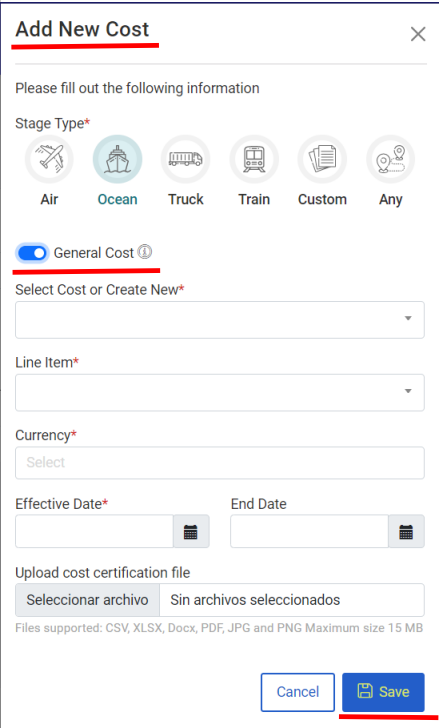 You will see a list of Cost Items. You can edit or delete them if you need to. Click on the drop-down arrow to open more options. 
When the costs do not have information in origin or destination are called General Costs. 

Select the button "+ New".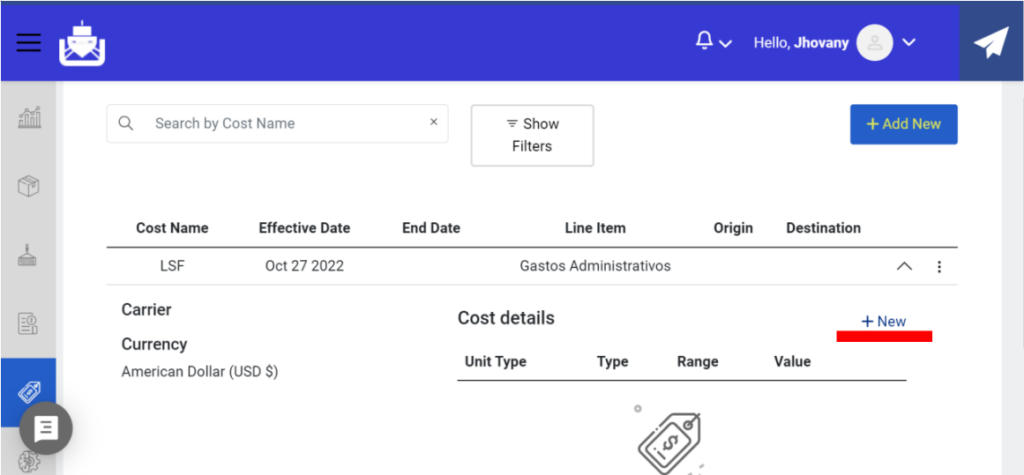 You will see a modal window, now, you need to select a unit type from the list (Container, Kg, M3, Shipment, Bill of Lading). If you select container, you will need to choose a type from the list and a range of the quantity of containers that you want to apply the costs to(If there is not a specific range, you can mark the option Undefined) and in the option Value, you can set a cost or select the check box named "Default cost" if there is not a price defined and click on "Save".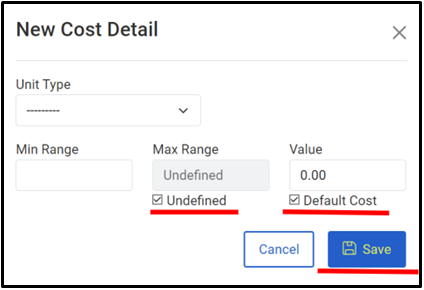 Click on the drop-down arrow again and you will see the cost you just added. You can add as many costs as you need for different containers or unit types.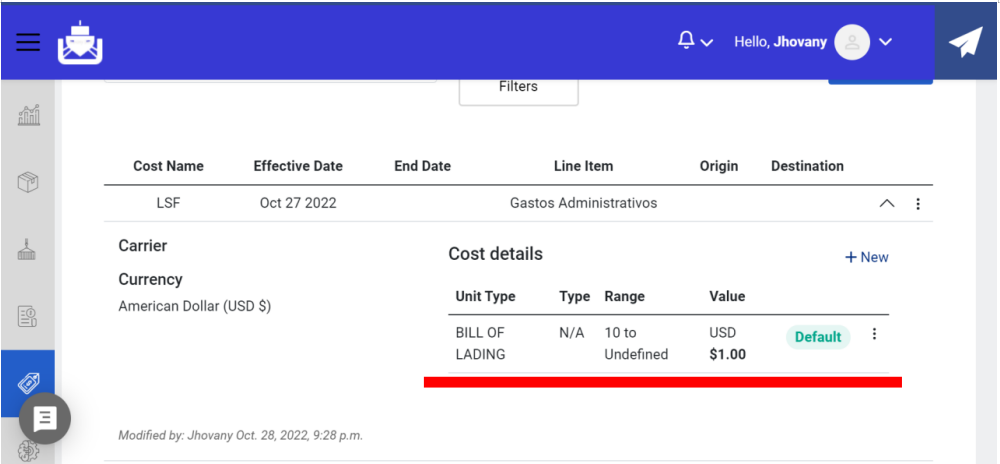 Once you finish adding your costs, click on the breadcrumbs on the left side at the top of the page "prices management" and it will take you back to the main view of prices.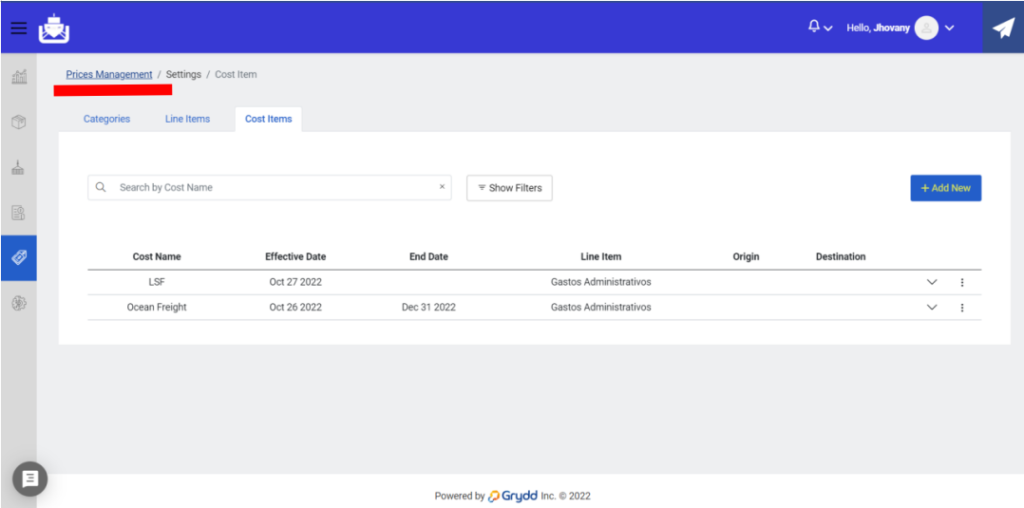 Have any questions? Please get in touch via chat. We reply usually within minutes.
Grydd – Fast forward your logistics